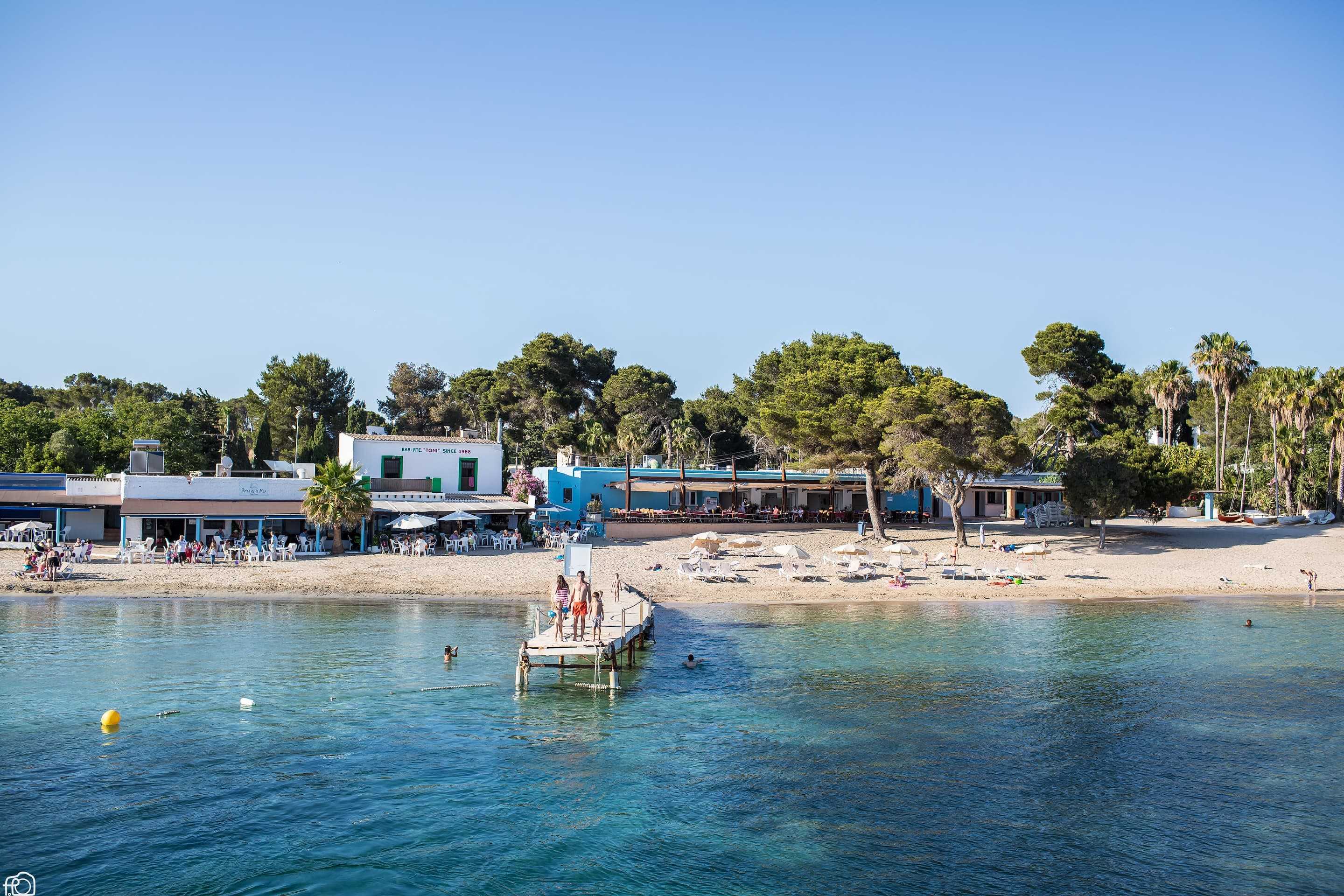 Cala Pada
---
Blog Santa Eulalia Ferry
Cala Pada
Cala Pada is a wonderful beach of about two hundred meters. A couple of kilometers from the town of Santa Eulalia, is a fantastic alternative to go to enjoy with the whole family since it has a large expanse of sand, a large shallow surface and rarely enter waves thanks to the reefs that protect it from the tides.
Due to its proximity to Santa Eulalia and Es Canar, the beach can be reached by a pleasant bike ride or walking along the beautiful coastal paths that connect these urban centers. There is also a bus, easy access by car and the regular Santa Eulalia Ferry line with several daily stops in Cala Pada.
The beach is characterized by having a small pier in the center, to which small pleasure boats arrive and from which the most daring dare to dive into the crystal clear waters of a jump. On one side there are some small jetties, so common in the Ibizan coastal landscape that will evoke the fishing traditions of the island. Cala Pada is surrounded by pine forests that give the feeling of peace and calm typical of the forests and thus a state of total disconnection and stress relief is achieved, in addition to offering a shaded beach area, for those who prefer to enjoy the beach without too much sun.
It is a spacious beach where you can rent sun beds and umbrellas as well as pedal boats and offers facilities for water sports. It is not uncommon to see wind surfers when the wind blows from the south. If you are one of the most daring and are looking for a unique experience, go to the diving center Diving Center Ibiza, located on the left side of the beach, and dare to explore the depths of the Mediterranean Sea.
A few meters from the shore, you will find several restaurants and beach bars creating a peaceful corner surrounded by nature. Cala Pada is a perfect place to have a beer in the shade of an umbrella or try the traditional fish and seafood specialties at the restaurant Brisa de la mar.
If your stay on the island is based on one of the many accommodations in the vicinity of Cala Pada, such as the modern Los Arcos Apartments, from Santa Eulalia Ferry we offer boat trips to Formentera, Ibiza town, Santa Eulalia and Cala Llonga.