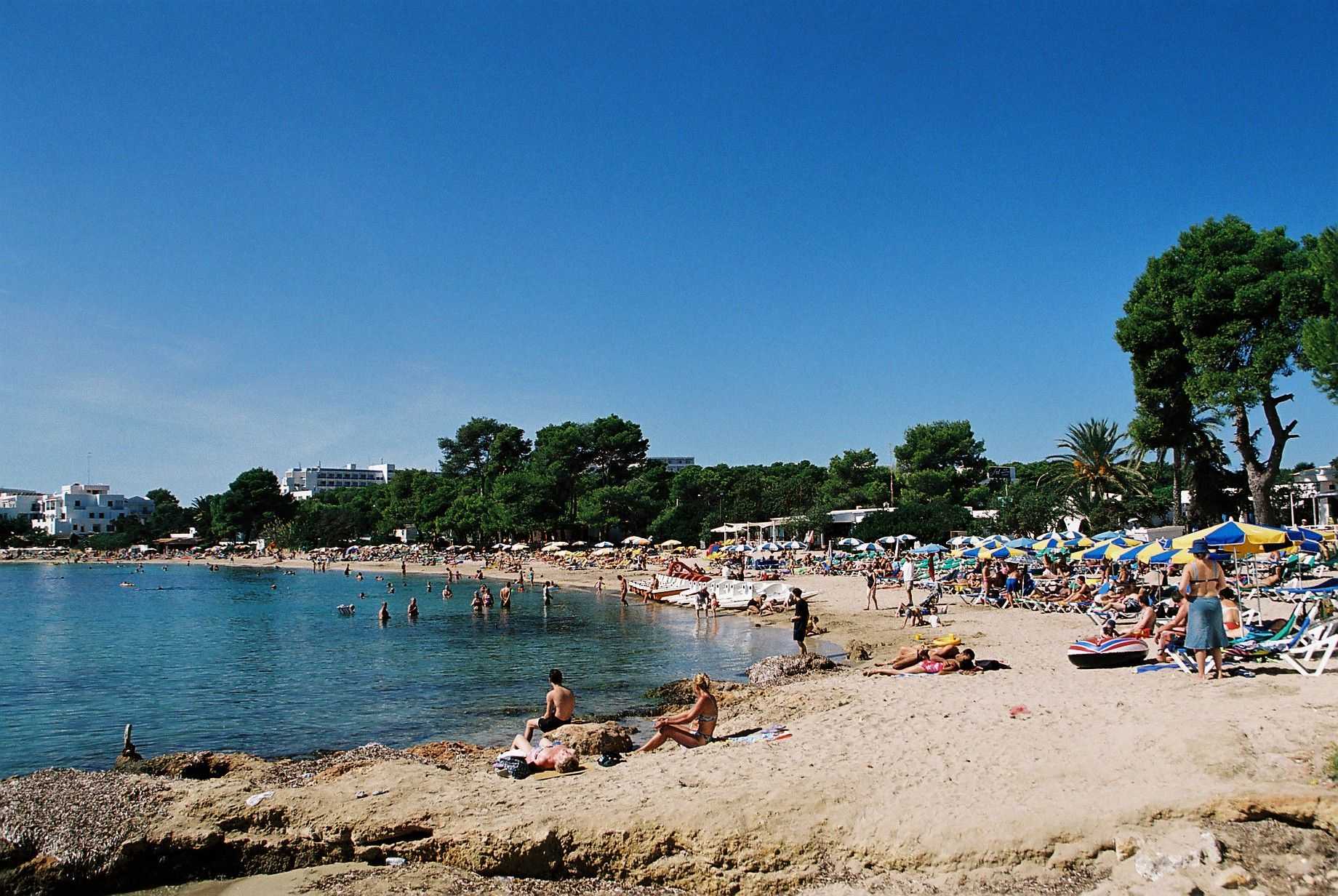 Es Canar
---
Blog Santa Eulalia Ferry
Es Canar
Es Canar is one of the favorite choices for family vacations in the municipality of Santa Eulalia. Area of beaches, hotels, bars and with everything you need to spend a pleasant time.
This tourist area is 5 kilometers from the town of Santa Eulalia, and has easy access by land, either by car or by bus. It can also be reached by a pleasant natural walk along the coast that connects both centers. And, of course, using the multiple departures of Santa Eulalia Ferry towards Ibiza center.
Es Canar is full of options. It is a very familiar area, with accessible beach, walking from the same center, parks, fair during the whole summer and several places where to rent a velomar. It has several places where you can go for a swim: on the main beach there are sunbeds and umbrellas available, and even the possibility to practice water sports with Ski Pepe Watersports. But there are also smaller and cozier coves such as Cala Martina or the hidden Es Caló des Gat. But for those who want a bit of adventure, it is worth going to the cliffs of Punta Arabí, where you can also find incredible underwater views in case of snorkeling.
There is no shortage of international food options. It is easy to find food to the liking of the little ones in almost any of the restaurants in the area. In case of soccer, there are plenty of places to enjoy it, such as Montemar, a varied restaurant for all tastes. It also offers a variety of stores to buy souvenirs, any necessary equipment for the beach or clothing. If in the evening, the older ones feel like having a few drinks and enjoying some live music, they can go to [Charlies bar](https://www.instagram.com/charliesbaribiza/), or to the locals favorite alternative, Can Suldat.
Es Canar is the place of the genuine Hippy Market. Market that has been one of the most popular of the whole island since its beginnings in the seventies. It is mounted on the sides of the roads that connect the different bungalows of the hotel Punta Arabí. It is a place where you can lose yourself all day long among the different stalls selling costume jewelry, jewelry, clothes and art pieces from both local and imported artisans. Inside there is no shortage of places to eat or drink a beer while some live music band plays.
In the area of Es Canar there are hotels and hostels of all kinds and suitable for all budgets, so it will not be difficult to find accommodation to your liking. It is also a place of campsites, such as camping Es Canar, or the Chirincana, enlivened with live music several days a week. For this reason it is also the place chosen by backpackers and families with a hippy spirit from all over the world to settle down. For all these reasons, Es Canar becomes a pleasant place, friendly with all kinds of tourists and with a very diverse atmosphere that makes its visitors fall in love with it.
For more charm, a few kilometers from Es Canar, there are beautiful beaches such as Cala Nova, Cala Pada, or Es Niu Blau. And the beaches of San Carlos such as Aguas Blancas, Cala Boix or Cala Llenya are not far away either.