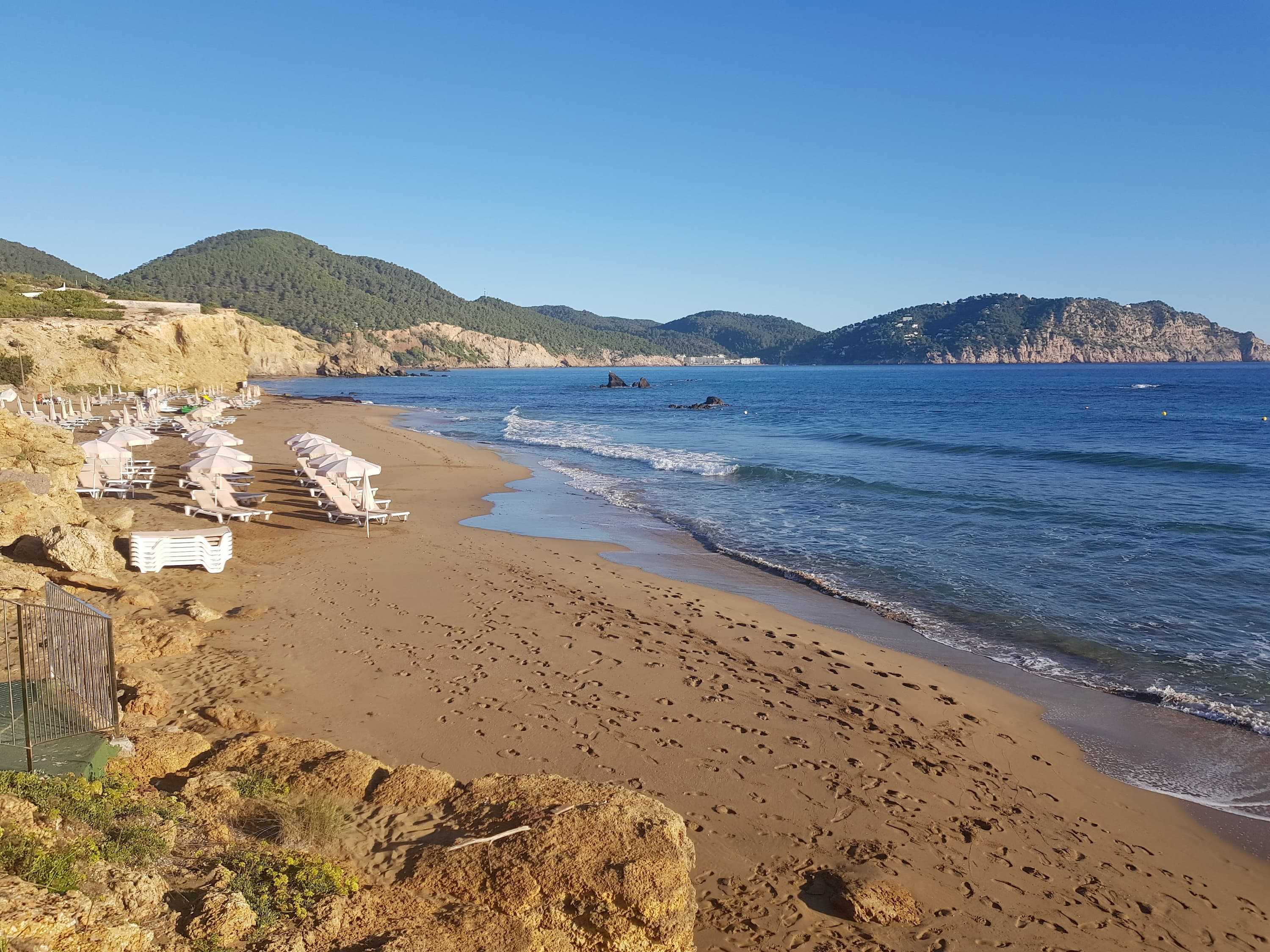 Es Figueral
---
Blog Santa Eulalia Ferry
Es Figueral
Es Figueral is an extensive beach with white sand, family atmosphere, with hotels overlooking the sea and all the services you may need during a vacation. Located 4 km from the town of San Carlos and 15 km from Santa Eulalia, Es Figueral is one of the major tourist centers in the northeast.
Families will find here everything they need for a great vacation. The beach is equipped with sunbeds and umbrellas, and nearby you will find various options for the little ones, parks, water sports, hiking and live music. Apartments and hotels form a corridor through which you access the beach. There you can easily find lodging and the prices are adjusted since there are both large hotel chains and more modest and cozy places like the pension Las Tres Golondrinas.
The gastronomic offer of Es Figueral offers restaurants of traditional Ibicencan and international food and some beach bars such as the Las Dalias beach bar, where you can enjoy a pleasant after-dinner drink without losing sight of the little ones.
The cliffs surrounding the beach are of incredible natural beauty and provide shade to its stretch of sand, as does the more bohemian neighboring beach of Aguas Blancas and its now legendary beach bar. Do not miss the small beach hidden between the two, Racó des paller des camp, a tiny beach that can be reached on foot, through a gap in the cliff on the north side of Es Figueral.
If you are looking for an activity to discover the surroundings, you can take the mini train that leaves from Es Figueral and runs along the northeast of the island showing you the most picturesque landscapes of the area, explore the area by electric bike with Coyma Sunride, or take the ferry that runs along the coast to Santa Eulalia or go to Formentera, the smaller Pitiusa, with Santa Eulalia Ferry.
Our recommendation: when leaving Es Figueral, stop by the charismatic village of San Carlos and visit its most famous bar, Ca Na Anneta. It is the perfect place to end a hard day at the beach. You will find it right in front of the church. Its terrace next to the road, which doubles as the village post office, will teleport you to the most hippy ibiza.