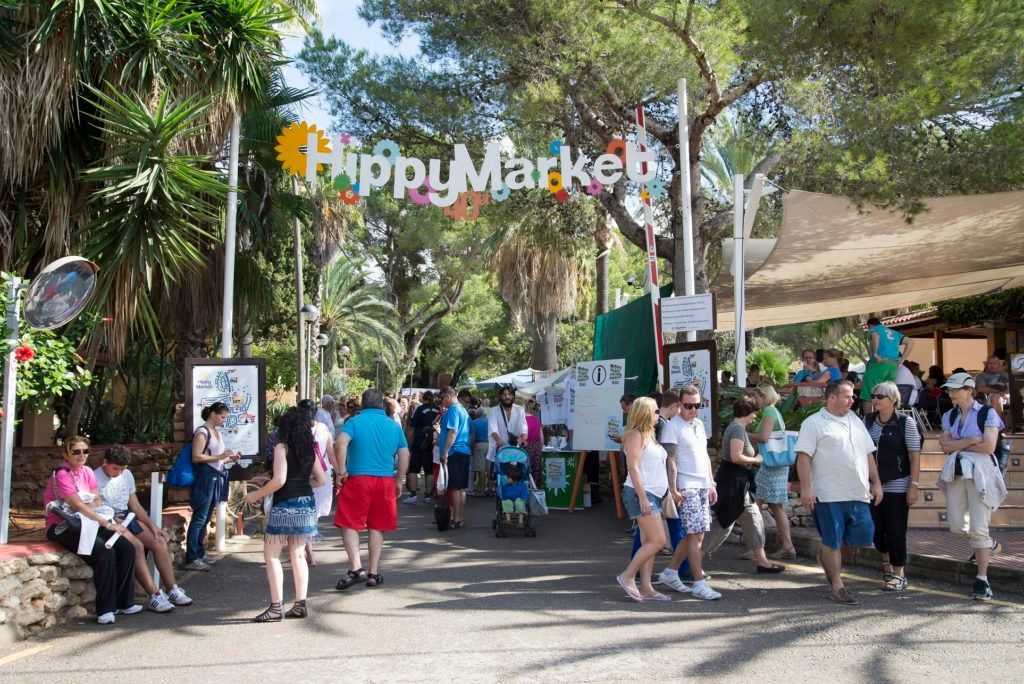 Hippy Market (Es Canar)
---
Blog Santa Eulalia Ferry
Hippy Market (Es Canar)
The beauty of Ibiza with its magical and secret corners, its spectacular climate and the cordiality of the Ibizan people was what captivated the hippies in the sixties, so many decided to settle on the island, then still unknown to mass tourism. The beginnings of the Hippy Market of Punta Arabí date back to 1973 when the management of the Hotel Club Punta Arabí offered the hippies settled on the island the opportunity to sell their handmade products or those from different parts of the world, to the few tourists staying there at that time.
In its beginnings, the market had only five stalls: Maggie with her delicious cakes, a lady from Formentera selling hand-knitted sweaters made from the wool of her own sheep, a boy selling puppies, some children exchanging toys and another person selling jewelry brought from India. All this was enlivened by the rhythm of violins, guitars and "jam sessions". In those early days the hippies set up their stalls on the ground, under the trees, presenting their products on handkerchiefs.
Over the years this market has become the livelihood for many families on the island, as well as a must for every visitor to Ibiza. Access it with our regular Santa Eulalia Ferry line from Ibiza town, passing through Cala Llonga, Santa Eulalia and Cala Pada.
The market already has more than 500 stalls and on Wednesdays in August several thousand people pass through them, enjoying the atmosphere in the wonderful garden area of Club Punta Arabí. An open atmosphere in which the purest hippy essence is breathed, with stalls of merchants, artisans, unique artists, elements imported from the most remote places in the world. There is no lack of anything, jewelry, clothing, unique designer shoes, decorative pieces, lamps, bracelets ... Imaginable elements, often difficult to find elsewhere. In addition, the site has a supermarket and several bars and restaurants with terraces where you will find everything you need to spend the day. There is not a Wednesday when there are not several live music performances carried out by musicians from the island, in which there is no lack of space to dance or enjoy a good beer from a table. If the Hippy Market of Es Canar has become an obligatory destination for visitors to the island, it is for a reason. Do not miss it and access it after a pleasant walk along the sea with our water cab.