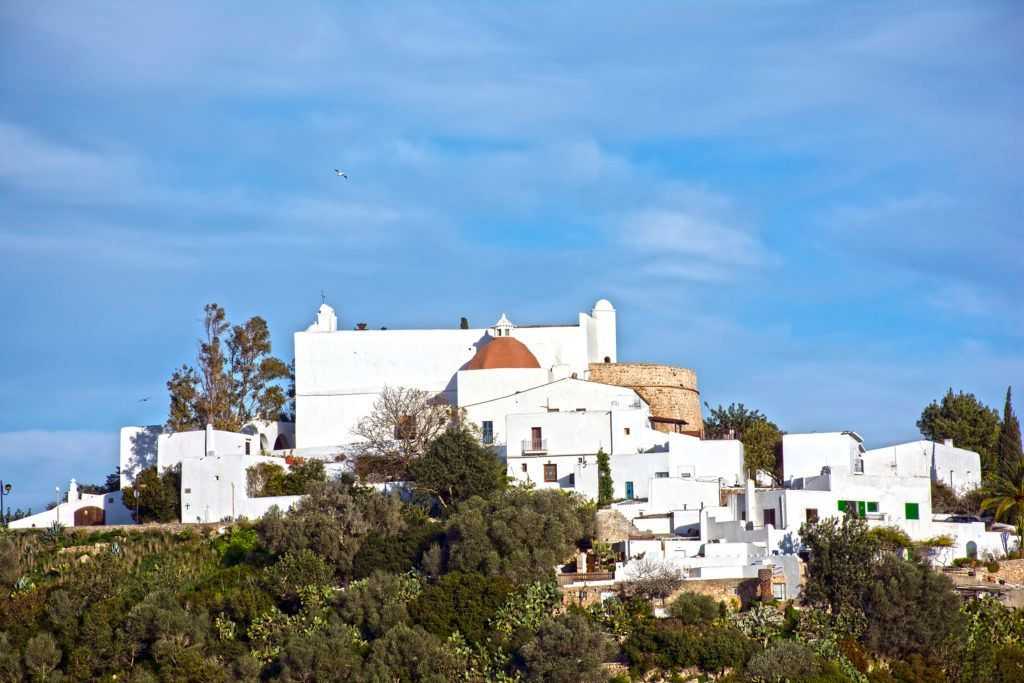 Santa Eulalia del Río
---
Blog Santa Eulalia Ferry
Santa Eulalia del Río
Santa Eulalia del Río is the third largest town on the island of Ibiza. Just 20 km from the airport, it is a quiet family area. Walks with palm trees by the sea, quiet beaches with crystal clear waters and a wide range of apartments and hotels to suit the needs of any family.
Santa Eulalia offers all the services you may need, cinema, theater and a great variety of restaurants, pharmacies, etc... Strolling through any of its pedestrian areas is a pleasure. You can breathe clean air and a friendly atmosphere. The promenade of S'alamera, which ends at the promenade or the Plaza del Cañón, are places where there is no shortage of terraces where you can sit and have a coffee or a beer enjoying the calm that Santa Eulalia offers. In S'alamera, the promenade and the port there are several restaurants where to eat, such as the already mythical Can Cosmi, with its paellas or the sophisticated l'Estel. Although there are restaurants all over the town, for dinner we especially recommend going to San Vicente street, also known as restaurant street. There you can find Asian food such as the exquisite Asian Road, Indian food such as the traditional Katmandu, Spanish food such as the Cervecería Quintana which also allows a long after-dinner drink with craft beers, etc... Another remarkable area of the town is the marina of Santa Eulalia, which is full of yachts and nautical offer. From here Santa Eulalia Ferry offers its departures to Es Canar, Ibiza town, Formentera, Cala Pada, Cala Llonga and Es Figueral. It is in that area of the yacht club where the nightlife of Santa Eulalia is located. Although there is not a big party area as in other places in Ibiza, the option to go out is available for those who feel like going for a few drinks after dinner.
As for accommodation, Santa Eulalia has all kinds of lodgings, from luxurious hotels like the hotel Aguas de Ibiza or small hostels like the Yebisah. So it will certainly be easy to find an accommodation to your liking.
We have spoken of the town of Santa Eulalia, but we must take into account the entire municipal territory, in which within walking distance there are wonderful places and beaches of which we recommend the following:
Cala Boix, for its dark sands. It is the only black sand beach on the island. Calm and with fresh and crystalline waters, its orography makes it a perfect place to enjoy a spectacular day at the beach with family or friends.
Cala Nova, near Es Canar, a beach divided into several coves and in each one with white sand and beach bars ideal for eating or cooling off. With small waves always present that keep the water always clean and fresh, which is appreciated in the hottest moments of the season.
Aguas Blancas, another wonderful beach in the area of Santa Eulalia and one of the nudist beaches of the island. It does not matter whether you wear a swimsuit or not, what matters is to enjoy the sand and the shadows that its cliffs provide. So if you are one of those who enjoy the sun, our recommendation is to come early.
Near Santa Eulalia you can not miss the area of Es Canar. The hippy market on Wednesdays is a "must" and also that of Las Dalias located in San Carlos. Here you will also have the opportunity to enjoy open air concerts, food trucks....